Founded in 2001, the Allegheny Rockets Oldsmobile Chapter of the Oldsmobile Club of America welcomes Oldsmobile enthusiasts and their families to share their passion of the beloved 'Oldsmobile' and to display our vehicles for others to enjoy.  It is our mission to build a local chapter, a social network and friendship amongst members, in addition to involving members in car show events and community events. This family-oriented club donates at least twenty-five percent of show proceeds yearly to deserving charities. Charitable organizations supported by the club are determined, on an annual basis, by the club's Board of Directors.
WE ARE AN ALL OLDSMOBILE CLUB; WE ARE ASSOCIATED WITH THE OCA (OLDSMOBILE CLUB OF AMERICA).
ORGANIZED IN 2001 THE MEMBERS ENJOY SEVERAL PERKS THAT INCLUDE -
OUR QUARTERLY NEWSLETTER ROCKET RUMBLINGS.

FREE CLASSIFIED ADVERTISING IN THE NEWSLETTER AND ON OUR WEBSITE.

ANNUAL MEMBERSHIP ROSTER OF ALL OTHER ALLEGHENY ROCKET MEMBERS.
WE MEET SEVERAL TIMES A YEAR TO ENJOY AND SHARE OUR BELOVED OLDSMOBILES AT TWO CAR SHOWS (AT LEAST ONE IS JUDGED), A PICNIC AND A CHRISTMAS PARTY.
WE WOULD LOVE YOU TO JOIN OUR CLUB, WHETHER YOU OWN AN OLDS OR HAD ONE GROWING UP, OR YOU JUST LIKE THEM, LOOK OVER OUR WEBSITE COME AND ENJOY OUR SHOWS, MEET US AND JOIN.
Club Officers and Directors
Newsletter Editor
Janet Ellis
Chapter Directors
Tom James   •   Ray Sabo   •   David Friem   •   Dave Ricupero  •  David Egler
Allegheny Rockets: ... How It All Began…
According to Volume 1, Issue 1 of the Rocket Rumblings, the founding members of the Allegheny Rockets saw a need for a club that would better serve the Oldsmobile enthusiasts from Western Pennsylvania, Western Maryland, and Northern West Virginia. Jeff Hartzell was in the process of forming a chapter in Western Pennsylvania and learned that Ron Miller was working on assembling a chapter in his area around Bedford, Pennsylvania. Jeff joined the Bedford group becoming the fourteenth charter member of the Allegheny Rockets.
Issue 2 of the Rocket Rumblings reported that although Pennsylvania already had an OCA chapter, the Blue/Gray Chapter, they held their events mostly in the area east of Harrisburg, which was a considerable distance for people from the western part of the state to travel. In addition, there were very few members in the Blue/Gray from the western part of Pennsylvania, Western Maryland, and Northern West Virginia, thus it was deemed logical that a new chapter be formed. A letter of intent to form a new chapter was sent to the Oldsmobile Club of America, and was approved at the 2001 National Meet in Denver, Colorado. Therefore, the Allegheny Rockets Chapter was formed.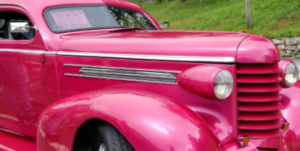 Marv and Lisa Bergman, Terry Divelbliss, Bill and Tine Dubbs, Dick Feightner, Ray Friem, Erik Goodman, Jeff Hartzell, Ron and Donna Miller, Mike Mitko, Rick Moore, Jim Ozbold, Hu Vandervort, Ken and Brenda Williams, and Chris Woy. While many of these founding members currently belong to another chapter, no longer belong to the OCA, or have passed, there is one founding member that has maintained his membership and is active in the Allegheny Rockets: Jeff Hartzell (currently our Allegheny Rockets' treasurer).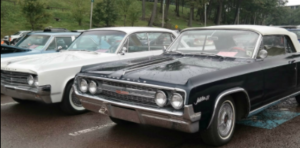 President, Hu Vandervort; Vice President, Ron Miller; Treasurer, Jim Ozbold; Secretary, Chris Woy (Note: Hu Vandervort resigned as president during the first year when he became legal counsel to the OCA. His purpose was to avoid an ethical conflict. Ron Miller became president and Sam Harpster, Vice President.)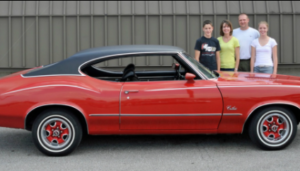 Rick Moore, Erik Goodman took charge of the newsletter for the first 3 years of the charter's existence. Jeff Hartzell then assumed the position of editor until 2011, when Janet Ellis assumed the position.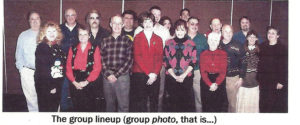 The first car show hosted by the Allegheny Rockets was held at Thomas Chevrolet/Oldsmobile, Bedford, PA in September 2001. The American Cancer Society collected the $5.00 registration fee. Amenities like a DJ and door prizes were not to be included as the chapter could not afford them at the time, but member Ken Williams volunteered to be the DJ at no cost to the chapter. Hu Vandervort chose the Best of Show and the Dealer's Choice Award was presented by a member of Thomas Chevrolet/ Oldsmobile.
Special Thanks to our Sponsors